Version 1.1 - January 5th, 2017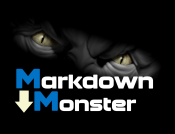 Markdown Monster is an easy to use and extensible Markdown Editor, Viewer and Weblog Publishing tool for Windows. It supports syntax highlighted Markdown editing, live HTML Preview, inline-spellchecking and gentle, optional toolbar support for embedding links, images and screen captures. You can also easily publish your work to any Wordpress or MetaWeblog API compatible Weblog and manage your blog and posts from Markdown Monster. Markdown Monster is also
extensible
with a powerful .NET Addin model that allows you to hook in custom functionality for editing or publishing your content. Go ahead, feed your Markdown to the Monster.
Version 6.07 - September 16th, 2016
Create Web applications with Visual FoxPro and take advantage of a powerful and proven framework using the FoxPro environnment you already know. Develop and test your code inside of the VFP IDE against live Web requests. Web Connection provides a core foundation engine, and several high level frameworks for developing just about any kind of Web application you can imagine. Create server driven HTML with our MVC style development, the rich Web Control Framework or use raw code to create low level service applications or connectors ontop of Web Connection's core framework. You can also easily build JSON and XML REST services and use the rich set of support classes for getting the job done.
Version 6.0 - May 23, 2016

West Wind Client Tools is a rich suite of utility classes that provide Internet functionality including SMTP & POP3 Email, full featured HTTP Web access, FTP and low level TCP/IP access. Utility classes include object based data access to SQL Server and Web Data, a light-weight business object framework, a .NET Interop helper component, XML conversion features, basic graphing for both desktop and Web applications, several configuration management classes and a rich library of utility and API functions useful in everyday Visual FoxPro development.
Version 5.0 RC2 - September 14th, 2016

Help Builder is a tool to create documentation for all kinds of scenarios including application or developer documentation, FAQs, snippet repositories, knowledge bases, Help Desk references. You can even use it as a content Web site creation tool. Using Help Builder's low friction interface to create content, you can generate HTML Web site output, CHM files or export to Word or PDF. It uses all Web based technologies for styling, templating and customization, and lets you focus on creating your content not worrying about markup. Using 5.0's new editor and support for the Markdown text format, content writing becomes distraction free. 5.0 also introduces new mobile friendly templates that make content more accessible, fast to navigate and SEO friendly. For developers, Help Builder allows creating class and database documentation from source files including .NET types, SQL Server database, FoxPro code, Web Services definitions and data and COM objects. Mix and match imported documentation with your custom documentation content. Documentation doesn't have to be a chore - let Help Builder help!
Version 1.01 - October 11th, 2016

Need to test URLs for API testing or stress test a Web site under heavy load? WebSurge is an easy to use tool that makes it easy to create or capture URLs for easy playback either interactively or under load. Test individual URLs for development testing of HTML, REST or SOAP services, run sessions under heavy load for stress testing. Use our easy to use environment to run tests, play back individual URLs or sessions, or use the command line interface to automate the process. Simple text based session files make it easy to store and create repeatable scripts that you can store on disk or the cloud, and share in source control or shared resources. Check out WebSurge for all your URL testing needs.
Version 1.40 - September 30th, 2015

Need to call Web Services with Visual FoxPro? Then check out our Web Service Proxy Generator that can easily create FoxPro SOAP 1.x Web Service clients using the reliable .NET service client as the connector interface. This tool automates the .NET service client generation and creates a FoxPro front end class. It's easy and you can call any complex SOAP 1.x services in minutes using a simple FoxPro class and a few lines of code.
Version 2.0 - June 23rd, 2015

This library provides a database driven ASP.NET Resource Provider and .NET Resource Manager to server Localization resources from a Sql Server database. Use either the provided Web based interactive resource editor, .NET code using our Localization data manager class, or simply manipulate data directly in the database to enter and update resources. Many related tools and utilities simplify resource management and use in your ASP.NET applications.
Version 3.51 - October 28th, 2014

Web Monitor can help you monitor your Web sites or any URL for failures or changes, and notify you when the URL fails or changes. Get notified on failures via email, or execute a URL or a local application in response to a failure. Why use expensive online services, when you can run your own, easy to use solution using Web Monitor in-house for a fraction of the cost?
Version 2.64 - May 20th, 2015

The West Wind Toolkit for .NET provides a host of essential utility functionality for your ASP.NET Web applications. From easy to use AJAX and REST services and jQuery client access, to a powerful DataBinding control, to Globalization, to core ASP.NET utility functionality like logging, error handling and configuration and script management, to a large set of utility functions useful in just about any .NET and/or ASP.NET Web project. This toolkit comprises a set of functionality that is not flashy, but covers many core, day to day tasks required in almost every .NET and Web application. Get productive today.
Version 2.50 - Dec. 30th, 2013
Create easy to use, strongly typed configuration classes in .NET and store configuration data in a variety of common storage formats. Store config data in .config files, different sections or external files, or use plain XML files, strings, or SQL tables to store configuration data. Never have missing configuration values again as defaults are always present and can optionally be written to the configuration store if they don't exist yet. Encrypt individual configuration keys selectively and write configuration any time. Lots of features and easy to use - it's never been so easy to create easily managed configuration data into your apps.
December 15th, 2013
Need to access .NET code from FoxPro? wwDotnetBridge is a free and open source .NET Runtime hosting engine and .NET access helper for Visual FoxPro. It allows hosting of the .NET runtime in your FoxPro applications, and can access .NET components without having to register those components for COM first. This opens up most of the .NET framework and .NET 3rd party libraries to your code.
Version 2.50 - 10/30/2009
The Web Store provides a source code based, .NET e-commerce base implementation and business and Web framework. Get a store a store setup and running in minutes with quick Web based setup, a full online administration interface, flexible user interface design, support for several Credit Card Gateways including Authorize.NET, PayFlowPro and PayPal, and easily extensible business logic based using a provided business framework. The Web Store is more than just an application - it's also a full featured Web application framework that can be used for any type of application, plus it includes a full featured offline WinForms offline client application.
EPS Software and West Wind Technologies have teamed up and are proud to bring you CoDe magazine. The magazine focuses on Microsoft development tools and technologies with focus on the .NET Framework as well more general software development and architecture topics. Sign up for a free subscription today.